Baden-Wuerttemberg Cooperative State University (Duale Hochschule Baden-Württemberg – DHBW)
Baden-Wuerttemberg Cooperative State University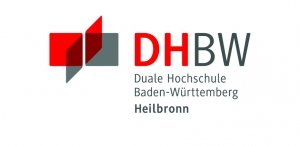 is the first higher education institution in Germany to integrate academic studies with workplace training within the curriculum. This means that students regularly switch, every three months, from their academic studies at the university to practical training at their partner company. The DHBW Heilbronn is the most recent location in this State University System, established in 2010. The organization structure of DHBW is unique in Germany for it comprises both the central level (DHBW headquarters in Stuttgart) and the local level (9 DHBW locations and 3 campuses). With around 34,000 enrolled students, over 9,000 partner companies and more than 125,000 graduates, DHBW counts as one of the largest HE institutions in the German Federal State of Baden-Wuerttemberg. All degree programmes are both nationally and internationally accredited, count as intensive study programs and are worth 210 ECTS credits. In addition, DHBW offers career-integrated postgraduate study programmes at its Center for Advanced Studies.
DHBW was granted the legal status of a university in 2009. But it traces its roots back to the University of Cooperative Education BA BW ("Berufsakademie Baden-Württemberg"), founded in 1974. More than 40 years ago, this model was initiated by renowned companies, such as Robert Bosch, Daimler-Benz and SEL. Therefore the success of the DHBW started with elevating Vocational Education and Training to the Higher Education level. In 2009, the federal state granted Berufsakademie Baden-Wuerttemberg the legal status of a university and it can since grant academic degrees.
Why we are participating in the project
By joining forces with partners from across Europe, DHBW has the possibility to develop and validate open learning concepts with European impact and adoption. Researchers at DHBW have run research projects specifically on topics of open education in terms of quality assurance and recognition of new forms of education in the field of digital skills and competences. DHBW has been leading EU projects, such as MicroHE (Support Future Learning Excellence through Micro Credentialing in Higher Education) and OEPass (Open Education Passport), implicitly aligned with the research of credentialing in the form of digital badges, nano-degrees, and micro-credentialing as new concepts advocated for use in the acknowledgement of coursework taken online.
Due to its HE experience and partner network, the DHBW focuses on the development of innovative education concepts by working with leading industry partners showing a strong commitment towards innovation in education. The construct of the dual education collaboration of the DHBW and their partner companies ensures continuous feedback and engagement by key industry stakeholders in Germany and especially in Baden-Wuerttemberg. The German Federal State of Baden-Wuerttemberg is one of the leading economic regions across Europe, home to internationally renowned corporations and thousands of successful SME´s.
Our role in the project
DHBW Heilbronn is the coordinator of the EdDiCo project. Previously, it has coordinated, among others, the OEPass and MicroHE projects, which laid conceptual foundations for Flexible Learning Pathways in Higher Education and for Digital Credentialing by developing a Learning Passport and a Credentials Metadata Standard. DHBW's main responsibilities in EdDiCo include:
Running the overall management of the project
Monitoring of progress against deadlines
Communication between the partners and with the National Agency (DAAD)
Financial management of the project
Performing an Analysis of Competence Frameworks
Contributing to the Creation of a Learning Maturity Model for Digital Education Competence
Contributing to the Creation of a Directory of Educational Resources for Digital
Contributing to a Self-Assessment and Recommendation Tools for Digital Education
Dissemination of the EdDiCo project results (regionally, nationally and internationally).
Our Team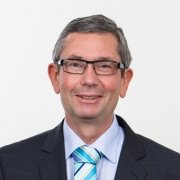 Prof. Dr. Günter Käßer-Pawelka
Head of Research and Laboratories at the DHBW Heilbronn
Prof. Dr. Günter Käßer-Pawelka is the Head of Research and Laboratories at the DHBW Heilbronn. He has been working as a Professor for the DHBW since 1989 at different positions and locations. Other priorities were the initiation and development of the alumni organization of the DHBW Stuttgart and the establishment of a teaching and research center for applied research with a focus on apparatus and qualitative market research. Since 2007, he is the President of the Marketing Club Heilbronn.
EdDiCo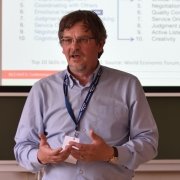 Raimund Hudak
Senior Researcher and Project Manager
As senior lecturer and researcher with around 15 years of experience at leading academic institutions, Raimund Hudak has been involved in various research programmes in Germany and abroad. Raimund Hudak is the Project Manager at the Cooperative State University Baden-Wuerttemberg Heilbronn in the European-wide research projects. He is also the CEO of Synesis' European practice. He holds an MBA in business and international marketing from the Institute for Technology and commerce in Reutlingen, MSc and undergraduate degrees in optics and photo engineering from FH Köln.
EdDiCo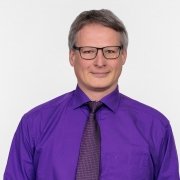 Jochen Ehrenreich
Senior Researcher
Jochen Ehrenreich is a senior researcher at DHBW Heilbronn. He built his expertise in fields like University Governance, Quality Assurance and Accreditation, Lifelong Learning and Technology Transfer through hands-on project work at various institutions in Higher Education and in Lifelong Learning. He holds a Master's degree of Economics and Business Administration from the University of Witten/Herdecke, Germany's first private university
EdDiCo